FEE SCHEDULE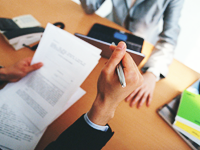 Our fees generally comprise the following: (1) legal consultations, (2) legal assessments and opinions, (3) retainers, (4) awards, (5) services, (6) advisory duties, and (7) per diem costs. Fees may be charged on an hourly basis (rate) depending on the matter and with the prior agreement of the client. In addition to the fees stated above, expenses and disbursements necessary to the proper handling of a client's legal matters are charged to that client.
STANDARD LEGAL FEES AND RATES
The rates for our legal services for each case are determined through agreements between our attorneys and their clients, and these rates might increase or decrease depending on the nature and needs of each unique case. The minimum retainer is JPY 100,000 (yen) when the retainer calculated according to the following formula is less than JPY 100,000 (yen). The following shows our standard retainer and award fees.
Aimed financial award /
Achieved financial award
Retainer Fee
(tax not included)
Award Fee
(tax not included)
Up to and including JPY
three million (yen)
12%
12%
More than JPY three million (yen)
up to and including JPY
30 million (yen)
7.5% + JPY 135,000 (yen)
7.5% + JPY 135,000 (yen)
More than JPY 30 million (yen)
up to and including JPY
300 million (yen)
4.5% + JPY 1,035,000 (yen)
4.5% + JPY 1,035,000 (yen)
More than JPY
300 million (yen)
3% + JPY 5,535,000 (yen)
3% + JPY 5,535,000 (yen)